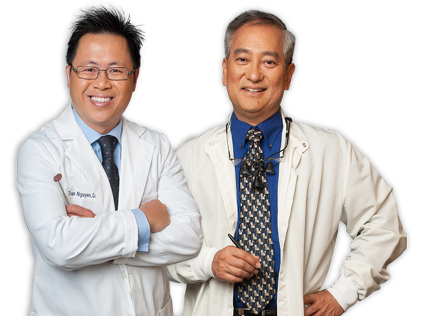 Beach Family & Cosmetic Dentistry
Huntington Beach, CA Dental Office
See What People Are Saying…
Our office sees numerous clients every year, many who are repeat patients. Dr. Nguyen and Dr. Yokochi make every effort to provide each patient with a comfortable and relaxing experience. Our state of the art dental office offers cosmetic, pediatric, and general dental procedures. We utilize the highest standard of techniques and cutting edge technology. Take a look at our videos and gain a new perspective as to what it's like to be a patient at Beach Family Cosmetic Dentistry.
Patient Reviews & Testimonials 
I travel all over the country. I would never trust anyone else with my teeth but Dr. Yokochi.  – Sam
We appreciate Dr. Yokochi for taking the time from his weekend to care for my mother-in-law.
-Linda
I would recommend Beach Family Dentistry because they make you feel at home. – Pamela
I've been coming here since I was 1. I'm not scared to see Dr. Yokochi.
-Frankie 7 years old